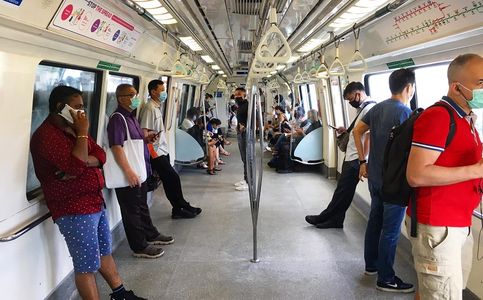 As one of the most modern and rapidly growing countries in Southeast Asia, Singapore's sophistication makes it accessible to all. For travelers, exploring Singapore is very easy because there are many hotels and world-class public transportation. Some of the infrastructures are also wheelchair friendly and tourist attractions are very accessible.
In fact, if you are traveling or on a staycation with an elderly family member or a loved one with a disability, you don't have to worry because there are many public facilities that you can take advantage of. Here are a series of public facilities that you can take advantage of and you need to know when you explore Singapore.
1. Mass Rail Transit (MRT)
Singapore's Mass Rail Transit (MRT) is one of the easiest modes of transportation when you want to get around. Singapore's MRT is divided into routes or lines and is managed by two operators: SMRT and SBS Transit. Meanwhile, there are 5 MRT lines in Singapore, namely the East-West Line (green), North-South Line (red), Circle Line (yellow), North-East Line (purple), and Downtown Line (dark blue).
MRT ticket prices vary, depending on what payment method you choose. You can buy standard tickets, or pay with an Ez-Link smart card or Singapore Tourist Pass. Among the three options, the Singapore Tourist Pass can be the cheapest payment option if you plan to travel around and move to many places. MRT fares are based on the type of ticket and the total distance you travel.
So, even if you change lines from one MRT route to another, you don't have to pay for each MRT ride. You can transfer up to 5 times in one payment, as long as you haven't left the MRT station. With more than 119 stations connected in all directions, all MRT stations are equipped with at least one barrier-free line, ramps, and elevators, as well as toilets with wheelchair access and wider ticket gates.
2. Light Rail Transit (LRT)
Light Rail Transit (LRT) is one of the public transportation in Singapore that is often used by local residents. The difference with the MRT which has routes to almost all mainland areas of Singapore, the LRT takes passengers to residential areas.
Singaporeans often use the LRT to get to the station to then transfer to the MRT. Usually, LRT trains only consist of one to two carriages. There are three LRT lines in Singapore, namely Bukit Panjang, Sengkang, and Punggol. In the route map above, LRT lines are depicted in gray lines.
3. Public bus
Besides the MRT, buses are also a favorite type of transportation in Singapore. Not only cheap, but buses also bring passengers closer to their destination. In addition, by taking the bus you can enjoy and see the atmosphere along the way. There are several types of buses in Singapore. Public buses called trunk buses are regular buses managed by 4 main companies: SBST, SMRT, GAS, and TTS.
The shuttle bus is similar to a tourist bus which makes it easy for passengers to reach some of the landmarks of the city of Singapore. Examples of shuttle buses are City Sightseeing Hop On Hop Off Bus, HIPPOtours Bus, and others. Just like the MRT, bus fares are based on the total distance traveled. You can pay the fare with cash coins or with Ez-Link or STP.
Keep in mind that if you pay in cash, there is no change as you will be putting your coins in the box provided. So, if you want to take the bus and pay cash, prepare a small of Singapore dollars. Currently, buses in Singapore are equipped with wheelchair access. This bus is marked with a blue sticker on the front. Bus captains are also trained to help passengers board and direct wheelchairs, and each bus is equipped with priority seats reserved for pregnant women and the elderly.
Those are public facilities that can be used in Singapore. For traveling planning, trust Traveloka. There are many flight and hotel ticket promos that you can get only on the Traveloka application.
Get the best hotel deals and book your room now only in Traveloka Singapore!
Traveloka is southeast Asia's lifestyle superapp, provides users to discover and purchase a wide range of travel products (OTA), local services and attractions, as well as  financial services products.